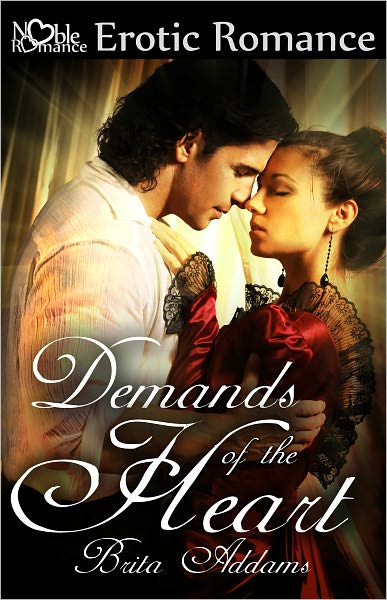 Demand Of The Heart By Brita Addams
ebook:
210 pages
Source:
GoodReads
Published:
February 20th 2012 by Noble Romance Publishing (link to purchase
HERE
)
Age:
Adult 18+
*
*I added the age restriction. The age restriction was not provided by GoodReads.Com.
Blurb:
In 1807, idealistic Richard Fanshaw and Victoria Bramhill are consumed with each other, their young love blooming amidst a series of carefree soirees and stolen moments.
But jealousy and greed turn what they have into something ugly and twisted. They're wrenched apart amid vile lies and deceit when Victoria's freedom is bought to pay her father's debts.
Six years later, Victoria is widowed and a cynical Richard has just returned to England after years in India. Having been given the impression that Victoria's marriage was a happy one, a chance meeting renews Richard's anger over Victoria's betrayal and sets in motion a plan for revenge.
One must answer the demands of the heart.
I have not read one Brita Addams book that I did not absolutely love and Demands Of The Heart is no exception. The way she weaves her storytelling web is beyond compare. This book literally sucked me into Richard and Victoria's world of love, pain, loss, and intrigue.
Richard Fanshaw, although his family has money, has always been a self made man. He worked and earned every dollar he ever had. Victoria Bramhill is a dutiful daughter of a father, who wishes merely to stuff his coffers, than his to see his daughters truly happy. Because her father feels he has been financially put out by launching his two daughters into society, Victoria feels she must wait til after the season is over to convince her father to accept Richard's suit of her, even though he has no title.
With less than a month to go before the season is to end, Victoria and Richard are torn apart by an unforeseen enemy and her greedy father. From there, the heartbreak and rage begin to simmer and boil for six years. When Richard and Victoria chance to meet again a new world of hurt and denial begin to unfold. So much goes on after Victoria and Richard's chance meeting but I don't want to spoil the story for anyone.
This book kept me on an emotional roller coaster from page one. I felt their pain and suffering like it was my own. I don't know how Brita is able to make her readers feel so much when you read her books. I have always been a HUGE fan of Historical Romances and Brita has such an amazing gift for details and settings that I can't help but feel I have been transported there through her descriptive details and creative writing. On a scale from 1-10 I give Demands Of The Heart an off the charts 20. My scale could not contain how awesome this story was. If you are looking for a phenomenal Historical Romance with first love, deceit, mistrust, and true love than Demands Of The Heart is the book for you. I employ everyone age 18+ to go grab a copy of Demands Of The Heart and judge for yourself whether Richard and Victoria should answer their Demands Of The Heart.
Link:
Website
Blog
Facebook
Twitter
GoodReads
Shelfari